Avery Brewing debuts its anniversary beer Wednesday with party in its Boulder taproom before rolling out bottles early next month. The recipe for Fifteen includes black mission figs, hibiscus flowers and white pepper and the beer was fermented with Brettanomyces (wild yeast).
The Wednesday tasting begins at 4 p.m. and costs $10.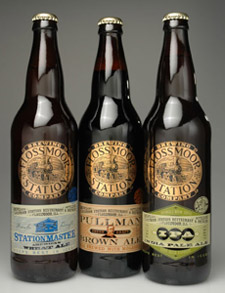 – Flossmoor Station Restaurant & Brewery, the 2006 Great American Beer Festival Small Brewpub of the Year, has begun packaging three of its beers in silk-screened bottles. These include Pullman Brown — which has won a total of nine medals in GABF and World Beer Cup, and is brewed with eight malts, toasted oats and a dollop of blackstrap molasses — Station Master Wheat and I.P.A., which is generally brewed to a different recipe for each batch.
– Sierra Nevada Brewing has added a third "harvest ale" to its lineup. Southern Hemisphere Harvest Ale is the first fresh hop ale available in America in the spring since hops are harvested in the fall in the northern hemisphere. A company press release explains, "To make this project happen, Sierra Nevada traveled to New Zealand to harvest fresh hops, and then transported them from the southern hemisphere to Chico where they were immediately used in brewing. Like their award-winning Celebration Ale, the fresh hops in this beer are dried right after being picked then shipped immediately to Chico for brewing, so that they retain their peak aromatics and flavors."
Southern Hemisphere Harvest features fresh Pacific Hallertau, New Zealand Motueka and New Zealand Southern Cross hops, all from New Zealand. In addition to Southern Hemisphere Harvest, Sierra Nevada produces Chico Estate Harvest in late summer and its original Harvest Ale in early fall.
– Rogue Ales will add two beers to its XS line in July, all of which are packaged in ceramic swing top bottles and are available on draft. Imperial Younger's Special Bitter was first brewed in 2006 to commemorate the 30th anniversary of the Horse Brass Pub in Portland, Oregon. Imperial Porter was first brewed for the Oregon Brewers Festival in 2007 and is a strong version of the Mocha Porter.
– The Spoetzl Brewery in Texas has released Shiner Leicht, a light beer (99 calories) available through August.