BridgePort Brewing Co. in Oregon has released a new summer seasonal, Haymaker Extra Pale Ale. It becomes available early in May.
Haymaker features a blend of four malts and three varieties of hops and is 5.3% abv. "We were looking to expand our seasonal lineup, and an extra pale ale was the ideal choice," said brewmaster Karl Ockert. "We couldn't be more pleased with the resulting color and flavor profile of the beer."
Like the other two products in the BridgePort seasonal series, Haymaker's packaging is a divergence from the BridgePort brand family. The beer's label and six-pack carrier focus on a whimsical red rooster with a fiery crown standing upon a weathervane, set against the backdrop of a round sun bursting forth with rays of light. The rooster is tossing back an outline of a pint, which is filled with the golden sunlight.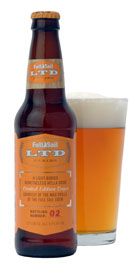 – Full Sail Brewing in Oregon is ready to ship the second beer in its LTD series. The newly designed bottle labels describe LTD Bottling 02, as a "light-bodied nonetheless hella good limited edition lager."
LTD 02 registers "Pale" on the "Malt-O-Meter" that is featured on the six packs. The bottom of the six-pack that features an easy to read chart of "Today's Recipe," including hop (Czech Saaz, Styrian Goldings) and malt varieties (2 row pale, caramel, Vienna and wheat), plato (16 degrees), IBU (34), and alcohol by volume (6.4).