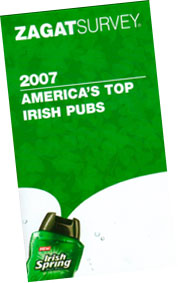 Looking for just the right pub in which to celebrate St. Patrick's Day?
The new "Irish Spring Body Wash Zagat Guide to America's Top Irsh Pubs" will serve you well if you're partying in any of a dozen American cities. Irish Spring will distribute the guide at special events in the days leading up to St. Patrick's Day. GetIrishNow.com lists where the "Green Team" will be handing out books.
The information is also available online. PDA owners may beam the content onto their device with the Zagat-to-Go.
Most of the information in the book was pulled from other Zagat guides, with additional ratings done in certain markets (such as Boston).
As with all Zagat guides ratings are provided for food/appeal (based on if it is a restaurant or spot for nightlife), decor, service and price.