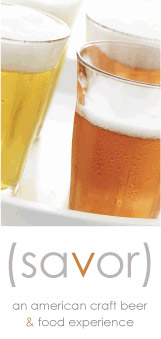 The Brewers Association continues to reveal more details about "SAVOR: An American Craft Beer & Food Experience" May 16-17 In Washington, D.C.
The event will feature "educational salons." Scheduled speakers include: Sam Calagione of Dogfish Head Craft Brewery; Jim Koch of Boston Beer; Randy Mosher, author of "Radical Brewing"; Marnie Old, Assistant Dean of Wine Studies at the French Culinary Institute; Garrett Oliver, brewmaster of The Brooklyn Brewery; and several "savvy cross drinkers" including Lauren Buzzeo, Assistant Tasting Director of Wine Enthusiast magazine; Ray Isle, Senior Editor of Food & Wine magazine; and Ken Wells, Senior Editor of Conde' Nast Portfolio.
The BA previously announced the 48 breweries that will pour beer at SAVOR.
From the press release:
The public can enjoy three different tasting sessions scheduled May 16th and 17th at the Andrew W. Mellon Auditorium located at 1301 Constitution Avenue, N.W. in Washington D.C.

Today, American beers are judged to be among the world's best and have earned a respected place at the table alongside wine. In fact, two-thirds of today's wine drinkers consume beer. This past summer National Public Radio observed, "Beer has gone from the House of Commons to the House of the Lords." Additionally, Gallup in July 2007 confirmed beer is still the most popular adult beverage in the U.S.*

To ensure attendees can interact directly with the craft brewers, each session will be limited to no more than 700 consumers. Tickets are $85 each and will include a wide variety of small dishes and appetizers crafted to match the taste profiles of craft beers, a commemorative tasting glass, souvenir program, Craft Beer Taster's Journal, and 2-ounce samples of specially selected craft beers. Federal City Caterers, which has catered many White House functions and Congressional receptions, will orchestrate the food menu.
The event will wrap up American Craft Beer Week celebrations across the country.