Shmaltz Brewing is set to release the third incarnation of Rejewvenator, brewed with organic Concord grape juice and this year to a new recipe described as "half dopplebock, half Belgian-style Dubbel hybrid lager/ale – a truly unique brewing performance." The beer checks in at 8.2% abv. The official Bay Area launch of Rejewvenator will take place July 29 at Bender's Bar & Grill in San Francisco.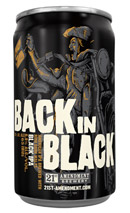 – San Francisco's 21st Amendment Brewery has released Back in Black, the first black IPA in the USA in a can. "Our Black IPA (6.8% abv, 65 IBU) is a declaration of Independence from the tyranny of the expected," co-founders Nico Freccia and Shaun O'Sullivan said for a press release. Black IPA is the newest official style in American craft beer, recently recognized by the Brewers Association with its own category for the upcoming 2010 Great American Beer Festival. The can is decorated with a modern-day Paul Revere bellowing out his call from the seat of a motorcycle. Alongside the graphics, the copy reads, "Inspired by Paul Revere's midnight ride we rebelled against the British style IPA, embraced the more aggressive American version, then recast it in bold, brave defiant black."
– The latest collaboration between an American brewer and De Proef in Belgium has arrived in the United States: Monstre Rouge. Terrapin's Brian "Spike" Buckowski and De Proef Owner-Brewmaster Dirk Naudts brewed the beer this past March at De Proef in Lochristi, Belgium. Monstre Rouge (Red Monster) is loosely based on Terrapin's Big Hoppy Monster with a Belgian twist. It is an Imperial Flanders Red Ale of 8.5%, fermented with brettanomyces and aged with toasted American oak. The malt profile includes a range of crystal malts, Munich and Terrapin's signature Rye. A blend of American hops results in 55 bittering units. SBS Imports of Seattle, Washington imports the annual collaborations that began in 2007.
– The 2010 edition of Samuel Smith's Stingo should be hitting beer shelves beginning next week. The 9% abv beer is brewed from British malts and multiple hop varieties, Stingo is fermented in Smith's famous open-topped stone Yorkshire Squares, then aged over a year in oak barrels that previously held cask-conditioned ale. Supplies will once again be limited.