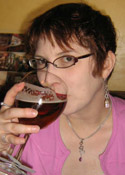 A Minneapolis woman has won the 2006 Lallemand Scholarship that entitles her to a two-week brewing course at the Siebel Institute of Technology. Winner Gera (G.L.) Exire LaTour has been brewing since March 2004.
The Lallemand Scholarship goes annually to a member of the American Homebrewers' and includes $2,900 for tuition to the World Brewing Academy Concise Course in Brewing Technology but also $1,000 to use for expenses.
The winner won her first blue ribbon at the Minnesota State Fair Home Brew Contest with a Cucumber Dill Cream Ale. She is an active member of the Minnesota Homebrewers Association, where she is known for her eclectic beers. She is a Certified Beer Judge with the BJCP and helps organize local BJCP exam prep classes.