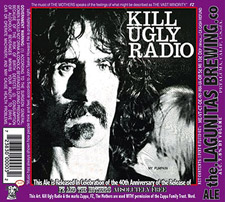 As promised last year, Lagunitas Brewing in California has released the second beer in its Frank Zappa series.
Kill Ugly Radio, featuring the inside album art from Zappa's second album, Absolutely Free, is in stores now. Last year Lagunitas brewed Freak Out! to celebrate the 40th anniversary of the release of the first album by Zappa and the Mothers of Invention, and Kill Ugly Radio commemorates the 40th anniversary of the second.
Lagunitas founder Tony Magee obtained the permission of the Zappa Family Trust to use the original album art for both.
The beer itself? A hefty 7.8% and not surprisingly brimming with West Coast hops, a blast of citrus and Northwest pine, and unapologetic bitterness.