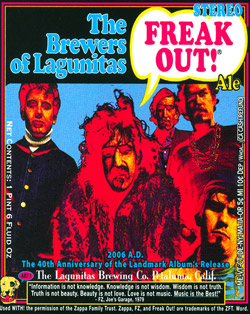 First Thelonious Monk, now Frank Zappa.
Compared to the heat Miller Brewing has drawn for using famous rock 'n' roll artists on a series of cans, it looks like small breweries – in this case both from Northern California – are on to something.
Lagnunitas Brewing Co. began shipping Freak Out! Ale in 22-ounce bottles earlier this month "in celebration of the 40th anniversary of the release of the first album by Frank Zappa and the Mothers of Invention."
Lagunitas founder Tony Magee obtained the permission of the Zappa Family Trust to use the original album art as the bottle label. He plans to do an entire series commemorating the release of Zappa albums. So look for "Absolutely Free" next summer.
Freak Out! Ale is a beer of substance (7.3% abv) but – thank goodness – is not as demanding as Zappas' double album. It has plenty of hop character – citrusy, resiny, gritty flavors and solid bitterness – to balance hefty malt sweetness (fruit and caramel).
Lagunitas also announced that its Imperial Red Ale (also not for sissies), previously sold only in 22-ounce bottles, is available in six-packs of 12-ounce bottles.