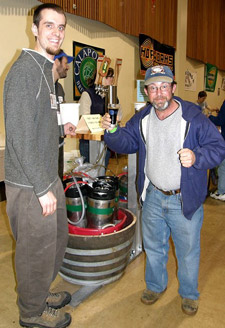 By Banjo Bandolas
A combination of bass and brass flooded the room as I entered Eugene's KLCC Brewfest. Classic R&B from local UofO student band "The Essentials" played to the crowd who leaned more towards 40-somethings like me than beer guzzling 20-somethings. I found myself singing along to almost every song as I perused the program and checked my "must haves."
When KLCC took the fest over in 2001 they had about 20 breweries…this year it was up to 48.The festival, KLCC's biggest fund raiser of the year, is in its seventh year, and 2008 attendance is expected to top 3,700 people. (Thank god I got here early!)
The KLCC brewfest isn't really very big as brewfests go, but Eugene, Oregon isn't real big as cities go, so it's size-appropriate. Attracting 48 breweries to our little berg is an indication of how strong the beer community is here. The breweries (half of which were from the Northwest) were a cross section of the big players in the craft brew scene, Widmer, Rogue, Lagunitas, Dogfish Head, Deschutes, as well as up and coming envelope pushers like Cascade, Ninkasi and Hopworks Urban.
Oregon beer gear was heavily represented on the attendees. Rogue Dead Guy Ale being the most popular T-shirt in the crowd, I gave up counting at 50.
I'd brought along my designated driver/wife Bonne, so I planned to enjoy a full lineup of craft brew. I figured a good place to start would be the festival's collaboration brew. All five local Eugene breweries (Eugene City, Ninkasi, High Street, Steelhead, and Willamette) used the same base recipe and yeast (along with their own personal twists) to create a Bavarian Dunkelweisen.
A Dunkelweisen's is a wheat beer, similar to a Hefeweizen, except it's brewed to be darker (Dunkel = Dark). Most are brown and murky (from the yeast).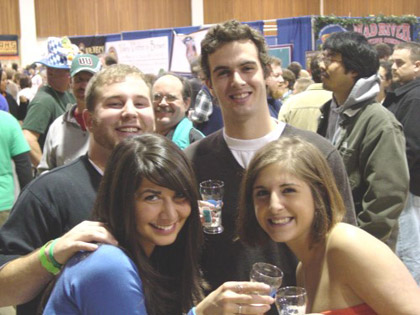 I quickly worked my way through all five (hey no lines yet!). They were all soft, bready, and smooth with small nuances that set them apart from each other, but none seemed remarkable. I guess this is what it's like to be a beer judge. Maybe it was me, I'd just returned from the Rogue Imperial Red launch in Newport and my palate may have been suffering from the Impact of a lot of big beer.
"Okay, if that's the case," I thought as I made a beeline for the Deschutes table, "there's no reason not to go right to the big guns."
The Abyss is the second of the Deschutes Brewery's Reserve Series launched last year with oak-aged Mirror Mirror. The Abyss is a Russian Imperial Stout aged in French oak bourbon casks and packing a whopping 11%abv. If I couldn't taste it, all was lost. The pour was BLACK topped by a nice, well laced, tan head. The nose wasn't what I expected, very light aroma with sweet notes of chocolate, smoke, and cherry. The flavor was strong. Bittersweet chocolate, molasses, spicy hops, coffee, and the slight burn of alcohol. Nice dry finish. Wow!
Obviously my taster was in working order so I moved on to the next beer on my list a couple tables away, Lagunitas Hop Stoopid. I love the fun themes Lagunitas uses in their marketing. This beer reminded me of the Frank Zappa IPAs, with little dryer finish. It's a good sweet beer with lots of fruit at the entry balanced by a bitter finish. A very drinkable big session ale.
The band was really rolling now; did I mention it was a ten piece band with a brass section and everything? They were playing every song I'd ever danced to when I was young and I felt myself swaying to the beat as I moved from table to table. Looking around I noticed I wasn't alone in enjoying the tunes and the open area in front of the band was filled with gyrating baby boomers.
One of my favorite Steelhead beers is Hopasaurus Rex, a recipe developed by brewer Jamie Floyd who now owns Ninkasi Brewery. So I had to try his Ninkasi Tricerahops Double IPA. The pour was a dark apricot with a soapy white head. Strong hops with citrus nose. Big hop flavor balanced well with the malt. Smooooooooth! Jamie's double IPA is something even a non-hophead could enjoy.
I was starting to feel the impact of my selections so I decided to check out the LP, tape, and CD music sale in the corner. Cheap prices on hundreds of artists I'd never heard of. A friend came over and shared her Eugene City "100 Meter Ale, which is an anniversary brew celebrating the 100th batch of beer by Eugene native, Trevor Howard. Trevor combined two of his award winning recipes, Natty Red and Track Town IPA to create an ale he claims is the best of both. Nice floral aroma with slight fruit notes, definitely India style. Dark red with a tan head. Oh man, this is nice! The hoppiness of an IPA paired with the smoothness of red ale.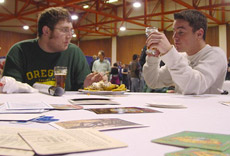 The hall was beginning to get kinda crowded and loud, time to finish my list and move on out. Hopworks Organic HUB Lager was a nice change after all the heavy beers I'd had. The beer pours a beautiful clear golden color with a tall white head. Crisp hop nose, spicy and floral, a great pilsner.
I attributed the long line at Lost Coast brewery's table to its cult-like status with many beer enthusiasts and a taste of Downtown Brown was worth the wait. Lost Coast Downtown Brown pours a clear dark reddish brown. The taste is chocolaty with berry fruit notes and a mild hop finish. Love it!
I saved my last taste for Pelican Brewery where my buddy Darron Welch is brewmaster. MacPelicans Wee Heavy Ale – a Wee Heavy" Strong Scotch Ale. This ale is a batch of MacPelican's Scottish Ale brewed with half the water and twice the boiling time, creating a massive malty flavored beer with a deep red color. The nose is rich caramel, cocoa, and fruit. The taste is sweet with a slightly dry finish. Dangerously drinkable at 8%a bv and a sweet relief after an evening of powerfully complex beer. And I'm done! (in more ways than one! Thank god I've got a Designated Driver)
What did I think of the KLCC Brewfest? Good tunes, great brews, and low impact crowds. What's not to like?
KLCC BREWFEST PEOPLE'S CHOICE WINNERS
1st Place: Lagunitas – Hop Stoopid
2nd Place: Willamette – Espresso Stout
3rd Place: Ninkasi – Tricerahops Double IPA