Steve Sheraton, magician and inventor, created a little application or the iPhone last year called iBeer. iBeer gives the illusion of a pint of beer on your iPhone, and even allows you to drink it down by tilting your iBeer to one side, the way you'd drain a real pint of beer.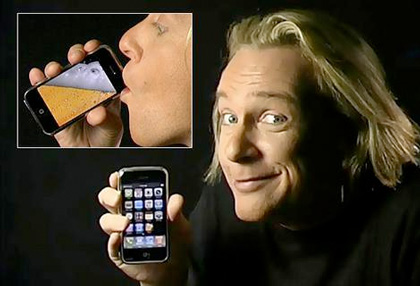 Coors appears to have stolen the idea for iPint, promoting one of their global brands, Carling. According to news reports:
Hottrix, a small Las Vegas-based novelty software company, which now owns the rights to Sheraton's digital gimmicks, last week filed a lawsuit against Coors, seeking $US12.5 million ($18 million) in damages for lost profits and the brewer's "ill-gotten gains". The suit claims that iPint had been downloaded more than 6 million times since it launch on July 11 and, being a free download, "significantly" impaired the number of iBeer (paid) downloads.