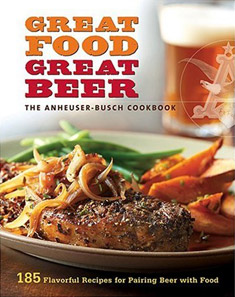 It would seem you might measure the history of how Americans perceive the relationship between beer and food, and thus the status of beer itself, based on the covers of beer cookbooks. And perhaps the photos inside.
Witness the progression of covers for what we call "beer cookbooks." Bob Skilnik writes in Beer & Food that breweries of the early post-World War II took a disjointed approach to putting beer and food together in consumers' minds. Storz Brewing in Nebraska was unique, long publishing booklets and eventually a hardcover cookbook in 1956 that was jammed with recipes.
The cover of that book, however, featured unplucked game birds hanging upside down and awaiting attention. Few photos accompanied the recipes themselves. By 1983 Anheuser-Busch did a little better with The Official Budweiser Cookbook, an 80-page collection of recipes on medium paper stock with nearly 20 full-page color photos. But, like the cover featuring Potato-Kielbasa Salad and Beer Rye Bread, most were hearty "down-to-earth" dishes.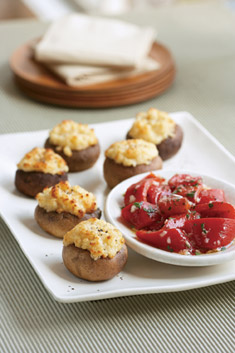 Compare that to the recently released Great Food Great Beer: The Anheuser-Busch Cookbook, 300 glossy pages thick with luscious photos filling every other page. Pure food porn. The one on the left features Roast Red Peppers with Garlic and Garlic-Stuff Mushrooms (recipes below).
The 1983 cookbook opened with a quick history of Anheuser-Busch and just the briefest primer on how beer is brewed. Great Food Great Beer begins with a bit more history, goes even lighter on the beer making and instead gives a dozen pages to the aesthetics of beer &#151 such as pairing food with beer, pouring beer, glassware, and menus for entertaining. Each recipe includes a suggested beer pairing, always suggesting a beer A-B brews or distributes as well as style — for independent souls who might go their own way.
As one review of the book noted, "with the Clydesdales now pulling the bandwagon for beer-and-food pairing, the concept is likely to get a much wider airing."
The beer-and-food education, in case you were wondering, is not as extensive as in the first half of Lucy Saunders' The Best of American Beer & Food, nor are the recipes introduced with the extra bit of information that emphasize the artisanship at the core of her book.
The recipes also do not appear quite as challenging or perhaps as wide-ranging as in Saunders' book, but we're not talking meat and potatoes or "Fried Pheasant al la Storz" (to choose one from the 1956 book). Recipes such as Grilled Snapper Packets or Leek and Chanterelle would even impress a wine drinker.
Available in clubhouse stores and online before Christmas, Great Good Great Beer hit bookstore shelves this month. Just in time for the Super Bowl.
Roasted Red Peppers with Garlic
8 red bell peppers
2 garlic cloves, minced
1 teaspoon kosher or sea salt
1/4 cup extra-virgin olive oil
1/2 teaspoon freshly ground black pepper
Fresh flat-leaf parsley
1. Preheat the broiler. Place the bell peppers on a baking sheet and broil 4 to 5 inches from the heat source until the skins are blackened and blistered all over, turning as needed, about 8 minutes. Transfer to a paper or plastic bag and close tightly. Let stand for 10 minutes (the steam will loosen the skins).
2. Meanwhile, on a cutting board, using the flat side of a chef's knife, mash the garlic with the salt, then transfer to a small bowl. Add the olive oil and pepper, stirring well to blend.
3. Peel, stem, and seed the roasted peppers and cut lengthwise into strips 3/4 inch wide. Arrange the pepper strips on a platter and drizzle with the garlic oil, scraping it out of the bowl to get all the garlic. Garnish with the parsley and serve warm or at room temperature.
Cook's Tip: Roasting intensifies the flavors of vegetables, and red peppers are no exception. You can roast the peppers in the oven or on the grill. You can prepare these peppers up to a day ahead, then cover and refrigerate. Let them come to room temperature and drain off any excess liquid before serving. Be sure to use very fresh garlic, as old garlic will taste bitter and strong.
Makes 6 to 8 servings
Garlic-Stuffed Mushrooms
2 heads garlic, cloves separated and peeled
1 cup heavy cream
1 cup panko (Japanese bread crumbs; see Cook's Tip) or plain dried bread crumbs
1 teaspoon salt
24 large button or cremini mushrooms, stemmed
2 teaspoons olive oil
1/4 teaspoon freshly ground black pepper
1. In a small saucepan, combine the garlic and cream over low heat. Slowly cook until the garlic is soft enough to mash with a spoon, about 45 minutes. (The cream will be reduced and thick.) Remove from the heat and mash the garlic into the cream with a fork, making a rough purée. Stir in the panko and salt, mixing thoroughly.
2. Preheat the oven to 450°F. Lay the mushroom caps, top side down, on a lightly oiled baking sheet. Brush the edges with the olive oil and fill the centers with the garlic mixture.
3. Bake until starting to brown, about 15 minutes. Remove from the oven and let stand for 5 to 10 minutes. Transfer the mushrooms to plates or a platter, discarding any released liquid. Sprinkle with the pepper and serve.
Cook's Tip: The vast amount of garlic here is tempered by being slowly cooked in cream, resulting in a rich, mild garlic stuffing. Panko, or Japanese bread crumbs, is very light and crunchy. You'll find it at Asian markets.
Makes 4 to 6 servings