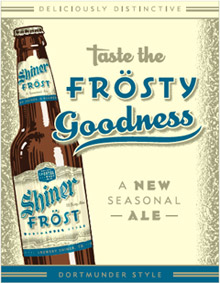 The Spoetzl Brewery's latest seasonal is the new Shiner Fröst, inspired by lagers brewed in Dortmund. From the press release: "Shiner Fröst has a rich malt aroma, a firm body with a bittersweet finish and a late burst of hops. Two-row malted barley, malted wheat and Munich malt plus Hallertau Tradition and Spalter Select GR hops all combine to create a clean, crisp, full-bodied flavor that is perfect for this time of year. Fröst has 5.5 % abv, an original gravity of 13.5 Plato and and 25 IBU."
Leinenkugel's 1888 Bock will be available through March nationwide. The brewery in Chippewa Falls, Wisconsin, first made the beer in 1888 after one of the harshest winters anybody in the region could remember. It was the brewery's first seasonal brew after 21 years of operation. From the company press release:

"Leinenkugel's 1888 Bock's robust head seizes the rich aroma of toasted and caramel malts. The flavor of this full-bodied brew is heavily defined by the Munich malts and the 20 to 25-day cold lagering process, which creates a smooth, toasted malt flavor. Leinenkugel's 1888 Bock also features Caramel, Pale and two-row Chocolate malts while Cluster hops add a touch of citrus character.

"'For 142 years Leinenkugel's has been sharing adventurous craft beers with our loyal fans and we're delighted to bring back the original Leinenkugel family bock recipe again this year,' says Jake Leinenkugel, fifth generation brewer and president of the Jacob Leinenkugel Brewing Company. '1888 Bock brings to life the flavors of Leinenkugel's five generations of brewing history and the brew's robust, yet smooth character makes it ideal as we move from winter into spring.'"
Mendocino Brewing's Spring Bock becomes available next week. From the press release: "This Limited Edition Spring Seasonal Bock Beer is a rich, malty, full bodied and traditionally brewed pale lager. This golden hued lager has been created to celebrate the coming of Spring and the start of a year that is replete with the promise of things to come. Our Spring Lager is brewed with the finest malted barley and a luscious blend of aromatic noble hops for a unique drinking sensation. At 7.0% abv, this lager is a perfect compliment to those days when the cool crispness of spring blends deliciously with the oncoming warmth that will herald the earth renewing herself once again."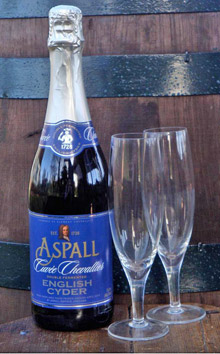 Aspall Cyder House of Suffolk, England and SBS Imports of Seattle have announced Aspall Cuvee Chevallier Double Fermented Cyder has been added to the Aspall lineup that includes Aspall Dry, Semi-Sec, Organic, and Perronelle's Blush cyders.

From the press release: "Cuvee Chevallier is produced from apples that are higher in acid and lower in sugar content – much like the grapes used for Champagne. The double fermentation process increases alcohol content but also provides greater structure and mouthfeel. This production method was first explored at
Aspall in the 1920s & '30's by ancestor JB Chevallier and was only recently rediscovered after a visit by one of JB's assistant cydermakers."

Cuvee Chevallier sells in a cork-finished 750ml champagne style bottles at a suggested retail price is $15.99 per bottle. It contains 11% abv.