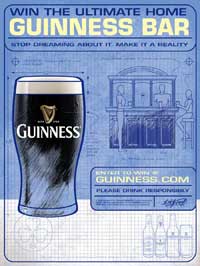 Even if you don't win, a new sweepstakes from Guinness offers a bit of creative fun.
In the Ultimate Guinness Home Bar contest you can draw your idea of what would make a perfect bar for your home, write an essay about why you deserve the bar and Guinness might build it for you. The winner will be selected by Bill Walton, a hall of fame basketball player and notorious Grateful Dead fan.
The bar comes with a three-keg cooling unit. A press release suggests it is " ideal for serving the Irish trio of Guinness Stout, Smithwick's Ale and Harp Lager on draught" but we don't think the Guinness police will be checking to see what actually ends up on tap. The grand prize winner also will receive three tap handles, mirrors for the back bar, a bar table and four bar stools.
We suspect that Guinness might also send out a draft technician to teach you how to draw a shamrock in the head of a "perfect pint."