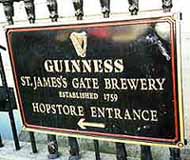 Might Guinness close its St. James's Gate brewery, where the famous stout was first brewed in 1759?
The Sunday Independent reports owner Diageo might move the brewery to a new site to the north of the city and sell the existing property for as much as 3 billion euros ($4 billion).
The company is "considering a number of important investment decisions on upgrading and renewing its brewing facilities in Ireland in the coming years," Diageo replied in a statement today. "No decisions have been made or will be made until the assessment is completed."
The St. James's Gate brewery exports Guinness extract, the "essence" of the drink, to more than 45 countries. The brewery also makes all Guinness for Ireland and the U.K.