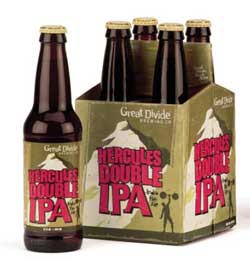 Great Divide Brewing in Denver recently began shipping some of its bigger beers in smaller bottles. Hercules IPA and Yeti Imperial Stout remain available in 22-ounce bottles, but now also in 12-ounce servings, sold in four-packs.
"For a while now, beer drinkers have been telling us they'd like to see a few of our bigger beers in 12 ounce bottles – so to keep the peace, we're meeting the request" said Great Divide founder Brian Dunn.
Hercules is 9.1% abv, 85 IBU, while Yeti – a silver medal winner at the 2005 Great American Beer Festival – checks in at 9.5% abv and 75 IBU.
Suggested price for a four-pack of either is $10.99.