The Democratic National Convention is coming to town — Denver, Colorado, that is — and local brewers are turning patriotic. Great Divide Brewing is releasing a single batch of Liberally Hopped American Pale Ale to salute the DNC.
This historic occasion calls for an equally memorable beer, and Liberally Hopped American Pale Ale easily rises to the challenge. This medium-bodied, light copper-colored beer features a truly empowering combination of Pacific Northwest hops to complement its all-American malts and ale yeast. Its moderate hop bitterness and refreshingly piney hop flavor and aroma come together with a smooth and subtle malt character to create a superbly balanced American-style pale ale.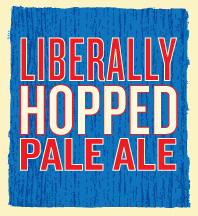 "We wanted to create something special for the convention," says head brewer Taylor Rees, "and we decided that of all possible styles, an American pale ale would be the best choice, in terms of both taste and symbolic value. It's bold and flavorful, but still approachable and highly drinkable. It's a populist beer that has plenty of substance; I can't think of a better match for the Democrats in 2008."
"Beer and Denver go hand in hand," adds Great Divide founder and president Brian Dunn. "The convention will be a showcase for Denver, and as downtown Denver's only packaging brewery, we felt like we should do our part to represent Denver's world-renowned beer culture. Liberally Hopped is an excellent beer that should prove to anybody who doesn't already know that Denver, among its many other qualities, is a world-class beer city."
At 6.1% alcohol by volume, this classic American-style pale ale will appeal to a broad coalition of palates, and pairs well with an equally diverse array of cuisines. Liberally Hopped American Pale Ale will be available on draft only and for a very limited time at local bars and the Great Divide Tap Room.