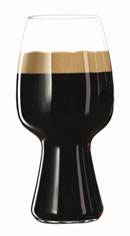 Glassware maker Spiegelau had collaborated with two breweries known for making excellent stouts to lanuch the first stout-specified beerglass. The Spiegelau x Left Hand Brewing Company x Rogue Ales Stout Glass was developed over a yearlong series of design workshops and tasting panels led by Riedel crystal glassware owner Georg Riedel and Spiegelau vice president Matthew Rutkowski. Eric Wallace of Left Hand Brewing Company, Brett Joyce of Rogue Ales and experts from each brewery tested a selection of stouts ranging from Rogue Ales' Shakespeare Oatmeal Stout to Left Hand Brewing Company's Milk Stout.
Speaking about the project for a press release, Rutkowski said, "Witnessing Stout beers explode onto the American craft beer scene was a light bulb moment for me… I realized we could do for stout what we did for IPAs. Left Hand and Rogue are known leaders and innovators in the field of stout brewing, so they were obvious partners, and I was thrilled when they wanted to get on board."
"John Maier, our brew master, was intimately involved with the tasting and selection process of the stout glass," Joyce said for the press release. "The final glass that Spiegelau designed and we selected highlights the flavors and nuances of stouts best."
Wallace added, "At Left Hand, we are committed to constantly improving beer quality and the beer drinker's experience"
The glass is available for purchase through www.SpiegelauUSA.com and retailers nationwide. Branded versions with brewery logos are available through www.rogue.com and www.lefthandbrewing.com, respectively.