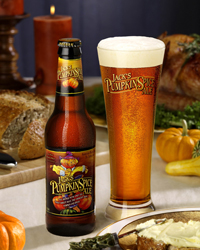 Pay no attention to those thermometer readings in Dallas or Cincinnati, pumpkin beers are on the way and fall can't be far behind.
Anheuser-Busch this week announced the return of Jack's Pumpkin Spice Ale, first released in 2005. More pumpkin beers distributed nationally, regionally and locally will soon follow.
Brewed with seasonal spices and Oregon-grown Golden Delicious pumpkins at A-B's Fort Collins brewery, Jack's (5.5% abv) pairs with traditional dishes such as turkey dinnners and pumpkin bisque, but also others like like teriiyaki chicken and mild Italian sausages.
"For adults who've never tried a pumpkin beer before, we'd encourage them to experiment with Jack's," said Florian Kuplent, brewmaster, Anheuser-Busch, Inc. "Because the pumpkin and spice flavors are so well-balanced and subtle, Jack's doesn't overpower foods and makes for an ideal culinary experience. Year after year this is one of our favorite beers to brew and we hope beer drinkers who enjoy trying new flavors will sample this seasonal ale."
Jack's Pumpkin Spice Ale is brewed with two-row, caramel and carapils barley malts, a blend of imported and domestic Hallertau hops and domestic Saaz hops.