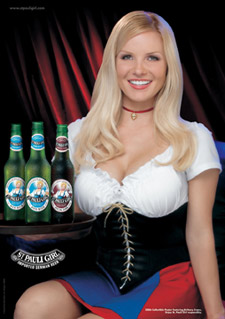 We learned long ago that the best time to buy beer at our local Oktoberfest is when the St. Pauli Girl shows up to sign posters – because that's where the line will be.
So as a public service announcement we offer this: To mark the annual selection of a new St. Pauli Girl the brewing company will give away 400 free posters each day on the brand's website. Additionally, from March through May, another 40 free posters will be given away each day to consumers on a first-come, first-served basis. And, a downloadable version will be available on the St. Pauli Girl Beer website as a screensaver.
By the way, Brittany Evans is model chosen to adorn the 2006 poster and represent the brand throught the year.