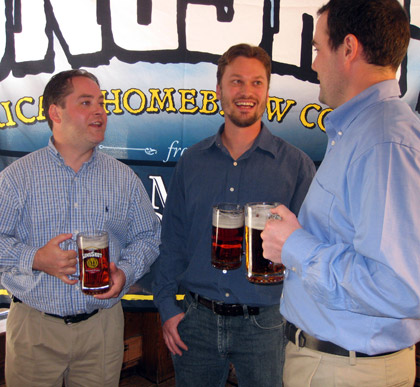 Homebrewer Ben Miller (center) thought he was having a pretty good day Saturday when he found out his beer was one of three big winners in Samuel Adams LongShot homebrew contests. But it was about to get better.
Little more than two hours after the New Mexico homebrewer closed his eyes and sighed when he heard Samuel Adams founder Jim Koch announce his barley wine would be one of three beers sold next year in the LongShot variety pack he heard his name again. He and Jeff Erway of Chama River Brewing in Albuquerque captured the gold medal in the Great American Beer Festival Pro-Am competition for Herbal Joe's Columbarillo IPA.
This is the fourth year for the Pro-Am competition, and Erway had a beer reach the final table of the first one in 2006. Then he was the "am" portion of the team, brewing his entry at Blue Corn Cafe & Brewery in Santa Fe along with Daniel Jaramillo.
The LongShot package will include Miller's barley wine, an old ale from Michael Robinson of New Hampshire and a saison spiced with pepper created by Jeremy White, who won the Samuel Adams employee competition.
Miller and Robinson first won regional competitions — entered by 1,300 homebrewers nationally — to advance to the finals, which were judged blind by panel that includes Koch. He gets only one vote.
Remembering the barley wine he said, "There is a lot of fermentation complexity that consumed the alcohol."
The winners will travel to Boston later this year to help brew the beers that will be released next spring in the 2010 LongShot package.