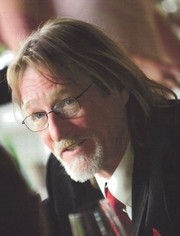 American craft brewing pioneer Greg Noonan, 58, died Sunday in his home after a brief battle with cancer.
Noonan opened Vermont's first brewpub in 1988 and two others after that but his influence was national. His 1986 book Brewing Lager Beer: The Most Comprehensive Book for Home- and Microbreweries
became something of a guidebook for those opening small breweries in the 1980s and '90s. He Later wrote Scotch Ale in 1990 and Seven Barrel Brewery Brewers' Handbook: A Pragmatic Guide to Home Brewing in 1996, then updated Brewing Lager Beer in 2003.
Like many who would soon be commercial brewers Noonan started out making beer as a hobby at home. He was working as a manufacturing manager for paper and wood products companies in Massachusetts when news of microbreweries opening on the West Coast inspired him to go pro.
"I specifically sited my brewery in Burlington because it's where I wanted to live. I admired the politics in Vermont," he said. He spent three years lobbying the Vermont legislature to legalize brewpubs.
"That first year, it was a real sell," he said 10 years after opening in the pub. "There was no built-in awareness of what a brewpub was. (Consumers) would look at you and think 'You are a brewery, you must make Budweiser.' There was no style awareness."
His local impact was obvious. For instance, John Kimmich, who later started the award winning The Alchemist brewpub in nearby Waterbury, sought out Noonan to learn the trade. Kimmich waited tables and eventually became head brewer at Vermont Pub & Brewery.
"Greg is a major reason that The Alchemist is a success," Kimmich says. "He's been a wonderful mentor. He's got the blending of the chemistry knowledge with the esoteric side of things."
Like many other brewers, commercial and amateur, Kimmich said he still has a dog-eared copy of Brewing Lager Beer in his brewery. His book was the start of Brewers Publications, the publishing wing of the Brewers Association.
That book was quite a legacy to leave behind but Noonan left much more.