The Brewers Association reports record exports of American craft beer in 2011. American craft breweries exported more than 110,000 barrels of beer in 2011, valued at an estimated $23.4 million — an increase of 86% by volume and 97% by dollars over 2010 exports.
Canada remained the industry's largest export market, with shipments increasing 127% by volume (up to 27,976 barrels) in 2011, largely as a result of increased demand in British Columbia, Alberta, and Ontario.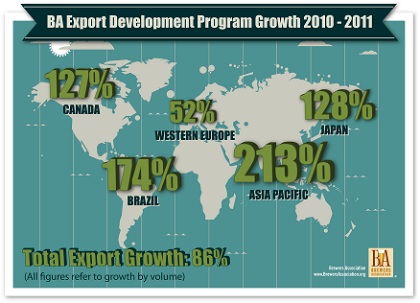 Additionally, the United Kingdom and Sweden remained the next two largest markets. Exports to both countries totaled approximately 13,065 barrels. Regionally, Western Europe is the largest destination for American craft beer exports. Shipments to the region increased by 52 percent in 2011 and now surpass 51,613 barrels.
"The growth in international sales is remarkable in light of the lingering global economic recession. Despite decreasing purchasing power, consumer demand for American craft beers has remained strong and importers have continued to expand their portfolios of American craft beer brands, even in emerging markets, like Brazil and India," said Bob Pease, BA chief operating officer. "These export figures speak for themselves. They are a testament to the innovation of small, independent American craft brewers and their focus on creating products of value to the consumer."