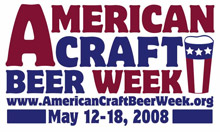 The Brewers Association has announced it estimates U.S. craft breweries made more than $20 million in charitable contributions in 2007.
The BA made the announcement in prelude to American Craft Beer Week May 12-18.
"In addition to being recognized for making world-class beer, independent craft brewers are amazing community citizens," said Julia Herz, a BA spokesperson. "Craft brewers are an integral part of many communities' charitable efforts. They donate to everything from fire departments, disaster relief efforts, local events, educational fundraisers and so much more."
Breweries across the nation will celebrate during the week (events will be listed here), but for many the highlight will be SAVOR: An American Craft Beer & Food Experience May 16-17 in Washington, D.C.