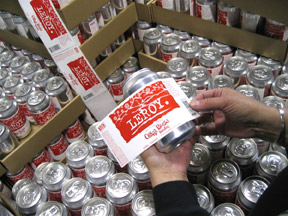 On Thursday, Oskar Blues Brewery will release two hand-canned seasonal beers in Colorado.
Gordon and Leroy both carry hand-applied labels, in part because only 400 cases of each beer have been produced. Microcanners must purchase their cans in lots of about 250,000 cans. That large number of cans is a hurdle to releasing small batches of canned seasonal beers.
"These beers are a canned gift to our fans," says Oskar Blues founder Dale Katechis.
Gordon – previously available only on draft at the brewery's pub – is made with six different malts and three types of hops, and dry-hopped with whole cones of Amarillo hops. It is 9.3% alcohol by volume, and has 85 IBU.
Leroy is an unfiltered American-style brown ale made with five different malts and four kinds of US and UK hops. A "session" beer, it checks in at 5.2% abv.