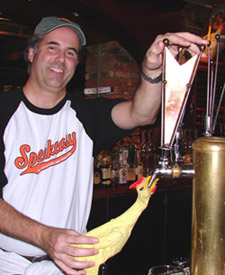 Wynkoop Brewing's judging panel has picked the three finalists for the brewpub's 2007 Beerdrinker of the Year award. They'll duke it out Feb. 24 at 2 p.m. in the finals in Wynkoop,s Denver brewpub. They are:
Diane Catanzaro, a Norfolk, Va., homebrewer, beer judge and professor of industrial/organizational psychology at Christopher Newport University. In 2006 she drank beer at numerous breweries, bars and festivals in the US and Belgium. She also led 16 college students on a tour of Belgian breweries and bars, ending their interest in mainstream American beer. She was a finalist in the 2006 Beerdrinker search.
Phil Farrell, a Cummings, Ga., commercial airline pilot, award-winning homebrewer, and beer judge. His beer travels include drinking beer in every country in Europe, 1,000 of the world's pubs, and attending over 20 major beer events in the US in 2006. His basement beer pub features six taps, two refrigerators, and a 15-gallon brewing system.
He's pictured here with his homebrew club's chicken mascot. He takes it on all of his beery travels, the chicken has been photographed with more than 1,500 beery people across the globe.
Logan Perkins, a Denver, Colorado beer enthusiast who has tried 4,000 beers in 43 states, 21 European countries and 5 Asian nations. He took a sabbatical from work in 2006 to visit breweries and beer events in the US and overseas. Last year he drank beer in Belgium, Denmark, Croatia, Portugal, Austria, Germany, England and many other nations. He's the first Denver resident to make the finals in 11 years of the competititon.