Wanted: 21-year-old, 75-year-old to Lead Repeal of Prohibition March
21st Amendment Brewery is offering a $75 bounty for a San Franisco Bay Area resident turning 75 on December 5, which is the 75th Anniversary of the repeal of prohibition. In addition, they are offering a $25 bounty for someone turning 21 on the same day. The birthday boy(s)/girl(s) will lead a We Want Beer! March on Friday afternoon, Dec. 5, at 4:00 p.m.
"The Repeal of Prohibition is near and dear to our hearts," said Shaun O'Sullivan, Chief Hop Head for The 21A. "We don't usually need an excuse for a party, but this is such a good one that we're having a parade, too."
Local residents with a 21st or 75th birthday on December 5, or who know someone with a 21st or 75th birthday on December 5, are asked to contact 21A at prohibitionbirthday@gmail.com. 21st Amendment is offering a bounty for the first person who introduces them to each Grand Marshal. Grand Marshals can claim the bounty by introducing themselves. Full instructions for claiming the bounty are posted on 21st Amendment's blog.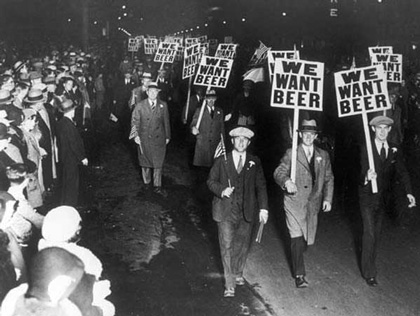 The We Want Beer! March will begin at 4:00 p.m. at Justin Herman Plaza (1 Market St, at Embarcadero) and end at 21st Amendment Brewery, located at 563 2nd Street, San Francisco. The pub will be transformed into a prohibition-ending celebration, complete with a speakeasy in the mezzanine that will require a password to enter.
"We'll share the password with the Grand Marshals, but everyone else will have to find the password themselves," said O'Sullivan. Password retrieval instructions will be distributed Dec. 1 via Twitter and the 21st Amendment blog.
Potential Grand Marshals must be able to provide proof of their December 5, 1987 or December 5, 1933 birthday, and they'll need to provide their own transportation to the march. "But we'll help them get home safely after the party," he said.