Boston Beer has released the 2011 batch of Samuel Adams Utopias in time for American Craft Beer Week.
Hand-bottled in numbered, ceramic brew kettle shaped decanters the beer carries a suggested retail price of $150, but at 27% alcohol by volume often sells for more. The company's press release notes Utopias is "meant to be savored like vintage fortified wine or fine cognac, this strong, rich, uncarbonated dark beer is best served as a two-ounce pour at room temperature in a snifter glass."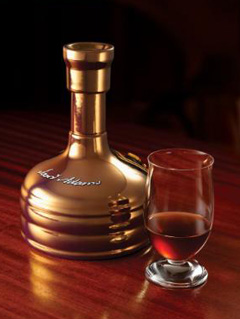 It is brewed in small batches, blended, and aged in the Barrel Room at the Samuel Adams Boston Brewery. After it was first released in 2002, it earned the title of world's "strongest beer commercially available" in the Guinness Book of World Records. At the time it was 24% abv. Other brewers, using distillation in the production process, have released stronger beers since, while Utopias (which is released only in odd-numbered years) climbed to 27% with the 2009 release.
After tasting that vintage both young and with some age on it, Stephen Beaumont wrote, "In conclusion, I'd have to say this experiment clearly illustrates that Utopias is a very different sort of beer, one which resides well outside the constrains of ordinary ales and lagers."
"Each time we begin the process of crafting our next evolution of Samuel Adams Utopias, we strive to make the new vintage more unique than the last, and the 2011 brew is no exception," Samuel Adams founder Jim Koch said. "The brewers and I spent years perfecting it, experimenting with different barrels and aging techniques until we felt it lived up to the long-standing heritage of Samuel Adams Utopias — a quest to push the boundaries of beer."
The 2011 Utopias is a blend of components aged in a variety of wood casks for up to 18 years. The limited edition beer comes from just 53 barrels, all brewed, blended and aged at the Samuel Adams brewery in Boston.