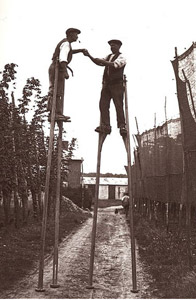 A business story form the Mail Tribune in Oregon reports that hop producers see a turnaround for their market. That means a growers' market instead of a buyers' market, and higher prices.
Consider this history:
In August 1980, clusters sold for $1.15 per pound, but rose to $5 per pound when brewers began to perceive a shortage, recalled Ralph Olson, general manager of Hopunion LLC, a collection of hop growers who sell primarily to the craft brewers.

Just one year later, the price bottomed out at 30 cents. Hop growers need at least $2 per pound to cover their costs and make a slight profit.

"You need the stability, you don't need the slot machine," he said. "You just need the in-between. It's very hard to accomplish, but I think right now we're at a place where that's going to happen."

Prices so far this year have ranged from $1.40 to $2.40.
Credit American craft brewers for at least contributing to the turnaround.
The best thing the craft brewing industry has done for hop growers is to broaden consumers' appetite for beer, said Michelle Palacios, administrator of the Oregon Hop Commission.

"They've done a really good job of educating consumers about the different types of beer, about different kinds of hops, and educating their palate," Palacios said.
The fact that this Associated Press story has been picked up by more than 100 news outlets echoes that thought.