A new beer (you'll have to wait; it hasn't been brewed yet), the return of a seasonal, and wider distribution:
– Iron Hill Brewery & Restaurant's founding partners Kevin Finn, Kevin Davies and Mark Edelson will gather in the brewhouse at their Newark, Del., original location later this week brew their first ever collaborative beer in honor of Iron Hill's 10th Anniversary. They'll a Belgian/Trappist-inspired ale, similar to a Rochefort 10, a strong brown ale with an alcohol content of 10% percent or more.
The beer will be bottled and ready for consumption on Nov. 14 for Iron Hill's 10th anniversary celebration. "After 10 years, I've finally convinced my partners to join me in the brewhouse," said Edelson, director of brewing operations. "It will be a significant occasion, because it's our first attempt at this type of Trappist ale, and the first time the three of us have brewed together."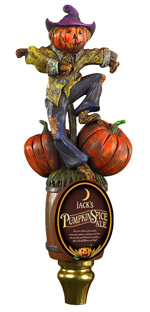 – Anheuser-Busch begins the second year of its seasonal beer series by bringing back Jack's Pumpkin Spice Ale. Previously only available on draught, this seasonal offering will now also be sold in bottles, beginning Wednesday. "Given what a passionate following Jack's had last year among beer lovers, we're excited about brewing it for them again," said A-B brewer Florian Kuplent.
Jack's Pumpkin Spice Ale is brewed with two-row, caramel and carapils barley malts and a blend of imported Hallertau and domestic Saaz hops. It is also brewed with seasonal spices and Golden Delicious pumpkins from the Stahlbush Farm in Oregon. Jack's Pumpkin Spice Ale is brewed at the Anheuser-Busch Fort Collins, Colo., brewery and has 5.5% alcohol by volume.
– Jacob Leinenkugel Brewing Company is expanding beyond regional distribution to several new markets. The subsidiary of Miller Brewing is rolling out Leinenkugel's Sunset Wheat in Atlanta, Austin, Dallas/Fort Worth, Philadelphia and Tampa/Jacksonville.
Launched in Spring 2006, Sunset Wheat is already one of the fastest growing craft beers in the country. Leinenkugel's anticipates Leinenkugel's Sunset Wheat will appeal to both male and female consumers.