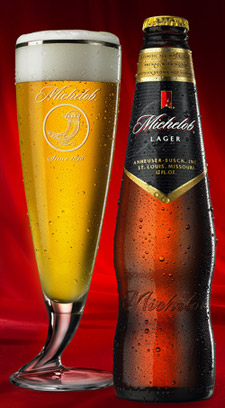 More on all-malt Michelob, mentioned last week.
The new Michelob and Michelob Light will be available Feb. 26 and the AmberBock March 5. You won't have any trouble spotting the difference, because of new packaging. Anheuser-Busch is bringing back the teardrop bottles (but not for the AmberBock) it used between 1961 and 2002.
The teardrops were introduced in 1961 when A-B began brewing Michelob with rice. Both the bottle and the new recipe were meant to symbolize elegance, with the rice making Michelob a lighter, crisper beers than others on the market. Michelob owned the "super premimum" segment then, as imports accounted for only 1% of American beer sales and microbreweries didn't exist.
Michelob has been A-B's super premium beer since it was first introduced in 1896, brewed as an all-malt beer and sold on draft in better restaurants and hotels. (Remember that, as Maureen Ogle documents in Ambitious Brew, beers brewed with corn were the most popular in the country by the 1880s.)
The shift back to all malt isn't intended to make a dramatic change in flavor. "The taste will reflect the basic style that Michelob is known for – but with an added dimension of taste intensity," said Doug Muhleman, vice president, Brewing Operations and Technology for A-B. "The beer will have a rich toasted maltiness, a balanced hop profile from the use of noble aroma hop varieties, a rich color and a smooth velvety finish."
Lew Bryson writes that these beers are aimed to appeal to the same consumers who drink craft beer – one of the definitions of craft beer is that it doesn't contain rice or corn (sugar and other wacko ingredients are another matter). That's obvious even with the redesigned bottles, which feature the embossed lettering that will seem familiar to those who buy products from New Belgium, Samuel Adams, BridgePort, Deschutes and a host of others.
(By the time the beers are available this post will be well back in the archives, but we'll point to is again so you can tell us what you think about the new recipes.)