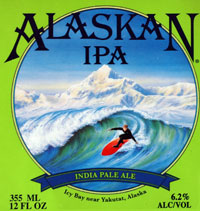 Alaskan Brewing celebrates its 21st birthday by releasing Alaskan IPA, a beer that takes inspiraton from the surfing culture in Yakutat, Alaska. Outside magazine named Yakutat "one of the five best surf towns in America." The label shows a surfer with 18,000-foot high Mount Saint Elias in the background.
Jack Endicott of Icy Waves Surf Shop in Yakutat said surfing in the remote coastal communit us unlike surfing anwhere else in the world. He told a story of watching two of his sons surfing in 25-degree temperatures, with snow falling so hard to lost sight of them. "I'll never forget standing on the beach and watching the steam rise from their heads after they removed their hoods," he said.
The new IPA has 2.5 pounds of hops per barrels. The beer begins with fruity and citrus aromas, blending with pine character and some candy-like sweetness. Biscuit melds with more hop (almost woody) flavor in a medium body, sliding into a bracing dry finish.
– Otter Creek/Wolaver's organic wit bier will return this summer. Brewmaster Steve Parkes and Morgan Wolaver get the raw wheat used in the beer from a local organic farmer, Ben Gleason. "Sourcing the wheat from a farm less than 20 minutes away is an obvious advantage to everyone," Wolaver said. "It's great for Ben and great for us."
Wolaver said he has been trying to find more local organic farmers to grow grain for the brewery.
Otter Creek and Wolaver's organic ales both are shipping in sleek, long-neck bottles with new labels. The Otter Creek labels use the same detailed drawings of local Vermont scenes from the brewery's hometown of Middlebury and the surrounding area. "These illustrations really capture the Vermont flavor, and we've had lots of compliments on them over the years," Wolaver said. "We wanted to keep the classic feeling of the drawings, but also to revamp the look of the label and make them easier to read."
– United States Beverage touts the beers from Barons Brewing as the first Australian craft beers available in the United States. These include Black Wattle Wattle Seed Ale, Barons Pale Ale, Barons Superior Lager, and Barons Extra Special Bitter.