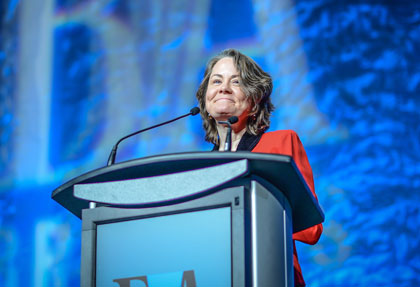 The Brewers Association honored its own during the opening session of the Craft Brewers Conference in Denver, handing out its annual Achievement Awards.
The F.X. Matt Defense of the Small Brewing Industry Award is presented each year to those who have given aid and support to the causes of small, independent brewers and by doing so supported the Brewers Association's goal of vigorously defending our industry. This year, Jester King Brewery outside of Austin was presented with the award for working to create craft-friendly legislation in their home state.
The Brewers Association Recognition Award was given to Teri Fahrendorf (pictured above). In 1989, Fahrendorf became the second woman brewmaster at a craft brewery in the U.S. She is the founder of the Pink Boots Society, an organization that works to empower women beer professionals to advance their careers in the beer industry through education.
The Russell Schehrer Award for Innovation in Craft Brewing was presented Mitch Steele of Stone Brewing Company. Steele began his brewing career at a very small company, San Andreas Brewing, worked for the world's largest brewing company, Anheuser-Busch, and since 2006 has been at Stone. He also wrote "IPA: Brewing Techniques, Recipes and the Evolution of India Pale Ale," published in 2012.