The students of Delft University of Technology in the Netherlands, embark on impressive feats of engineering involving everyday objects, and a favorite material is beer cartoons or crates. They made a bridge out of them and in 2004 built a 40-foot high Christmas Tree entirely of 15,000 beer crates.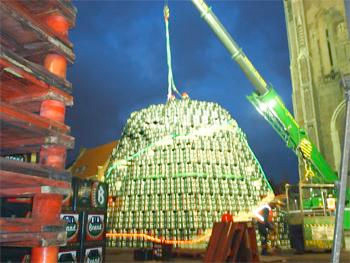 Unfortunately that press release is only in Dutch, but there is a summary in English:
Just before Christmas, Civil Engineering students built a Christmas tree of beer crates on the market square in Delft. The construction was about 14 metres high and consisted of almost 15000 beer crates. That was slightly less than planned, because during the build, it became apparent that the building surface was not flat, therefore the design had to be adapted.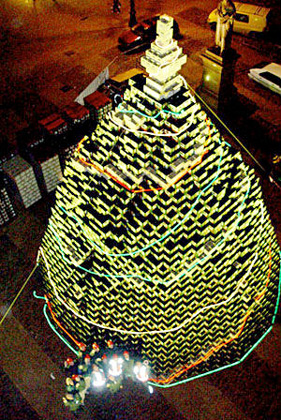 The students in front of their festive creation, which was fifty levels high.