Oskar Blues Brewery has just released a small amount of its acclaimed winter seasonal beer, Ten FIDY Imperial Stout. The beer is heading to stores in Colorado, Southern California, Texas and the Pittsburgh, PA area. Limited amounts of the beer will reach other markets later this year.
The immensely rich imperial stout garnered a large amount of critical acclaim and consumer appreciation when it was first released last October. The beer's many honors and accolades include "Beer of the Year" (The Denver Post), "100 Rating" (Ratebeer.com), "This one puts the 'A' in 'Holy Crap!'" (Beer Advocate Magazine) and "The biggest, baddest, boldest beer in a can" from Celebrator Beer News.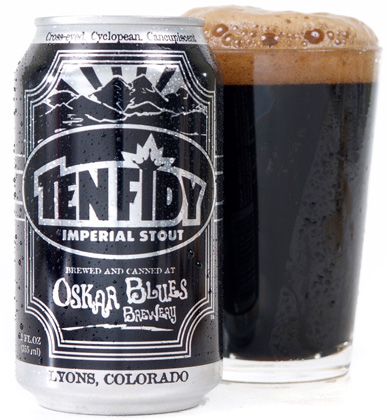 A titanic wonder of a stout, Ten FIDY is dramatically viscous and loaded with neck-deep flavors of chocolate, malt, coffee and oats. It's the beer equivalent of a decadently rich milkshake made with malted milk balls and Heaven's best chocolate ice cream.
Ten FIDY is about 10% ABV and made with enormous amounts of two-row malts, chocolate malts, roasted barley, flaked oats and hops. Its huge-but-comforting flavors hide a hefty 98 IBUs that are deftly tucked underneath the beer's blankets of malty goodness. The beer will retail for approximately $12 a fourpack.