Is your bartender sloppy, cavalier, or imprecise when pouring your favorite beer, or is he just trying to increase his profit margin? When your local pubs say they are selling you a pint of beer, you should get a pint (i.e., 16 oz). Not 12 oz or even 14 oz, but 16 oz of beer. A "pint" is a standard U.S. liquid measure, or precisely 16 oz of liquid.
As it turns out, the majority of the volume in a standard US pint glass is in the relatively small height in the top part of the glass. In fact, if a beer is poured to within about 1/2 inch from the top, 13% of the beer is GONE. If the beer is poured to about one inch from the top of the glass, an astonishing 25% of the beer is missing from your pint. At times it is difficult for us to perceive that the small height at the top of a pint glass can contain so large a portion of the beer's volume.
A team of international scientists (and beer connoisseurs) have designed and developed a gauge to determine how much of the wonderful micro-brew is missing from your pint glass (see theory). They call this incredible patent-pending gauge, "The Piaget Beer Gauge" (or "the Beer Gauge" for short). Piaget was a scientist in the 1800's to 1900's who studied the human inability to distinguish identical volumes in different sized containers (for more details see Piaget).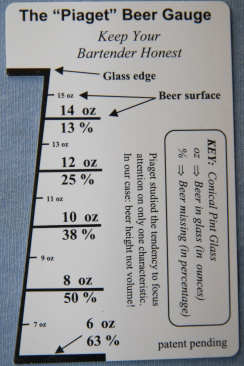 They are offering you this revolutionary gauge directly from the manufacturer (Ordering Information). The gauge is made of rigid, scientifically-designed waterproof material (i.e., plastic). The gauge is the size of a standard credit card and fits conveniently into a wallet. The gauge is easy to use (see instructions) and comes equipped with easy to read beer levels and volumes, scientifically calculated curves, and useful conversion factors.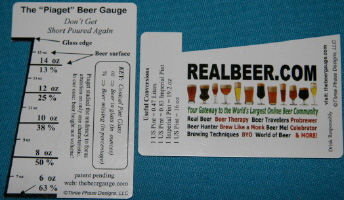 Best of all, they're only $2.00 (plus $0.50 shipping), making them the perfect stocking stuffer for everybody you know — they're only $15 for 10 of them. And they even take PayPal. Now when your bartender tells you that the beer is "almost" full, you do not need to ask him what "almost" means. All you and your friends need to do is whip out your very own "Beer Gauge" and tell him to keep pouring.