If you're looking to satisfy the sweet tooth and a love of beer of that special someone this holiday season, Chicago choclatier Vosges Haut-Chocolat may have just what you're looking for in these two chocolate and beer gift boxes, featuring beer from Rogue.
Mo's Bacon Bar & Rogue Shakespeare Stout Gift Box
Rogue Shakespeare is an oatmeal stout, distinctly mellower than its Irish ancestors. And it was crowned the 2008 World Beer Best Stout of the year. Oatmeal stout dates back to the 1800s when it was discovered that the addition of oatmeal to the brewing process yielded a "healthier" beer, touted as a virtual cure–all. Rogue's Shakespeare Stout is an ebony–tinged brew, laden with notes of chocolate and just the right amount of hops to compliment the umami notes in the Bacon and Chocolate line.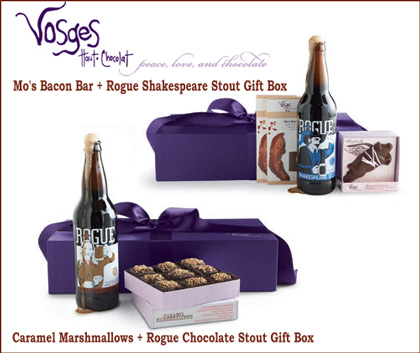 Caramel Marshmallows & Rogue Chocolate Stout Gift Box
Rogue Chocolate Stout fills your glass with its rich, ebony yumminess, revealing mellow oats, chocolate malts and hops through its creamy head. Its Comfort Food coupling just makes relaxing easier, with layers of sweet Madagascar bean marshmallow balanced by the bitter hops finish and caramely nuttiness complementing the earthen malts. Oh and chocolate, lots of chocolate.