Ken Burns' Prohibition – 3 DVD set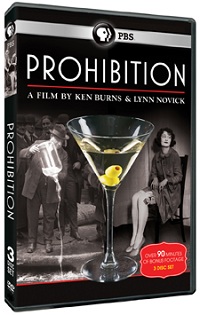 If you missed "Prohibition" — the three-part, six-hour documentary film series directed by Ken Burns and Lynn Novick — or want to see it again the DVD set is available.
The documentary tells the story of the rise, rule, and fall of the Eighteenth Amendment to the U.S. Constitution and the entire era it encompassed. The story of Prohibition's rise and fall is a compelling saga that goes far beyond the oft-told tales of gangsters, rum runners, flappers, and speakeasies, to reveal a complicated and divided nation in the throes of momentous transformation. The film raises vital questions that are as relevant today as they were 100 years ago — about means and ends, individual rights and responsibilities, and the proper role of government.