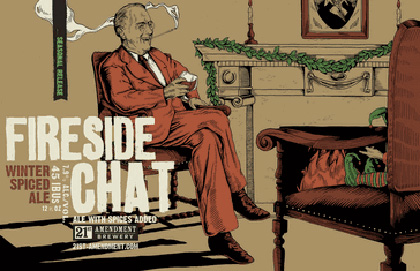 The 21st Amendment Brewery has made Fireside Chat its first seasonal beer in a can.
Fireside Chat's can and six-pack graphics feature former president Franklin Roosevelt by a fire and having a chat with an elf. The name refers to FDR's famous radio chats with the American public during the Great Depression in the 1930s.
The beer itself is a ruby brown English-inspired ale, brewed with spices that will change with each vintage. 21st Amendment released the beer in time for Halloween and it will remain available until the end of the year.
"It's brewed to be a beer to share and to celebrate the warmth and aromas and flavors of the season," said brewmaster Shaun O'Sullivan. 21st Amendment has brewed various winter specialty beers since shortly after the brewery first opened ten years ago. To make it unique each year, O'Sullivan selects a special blend of spices for the beer, based on the moment's inspiration.