Christmas may be over, but Winter's just beginning. Many breweries make a special beer that's not just for Christmas, not just for the holiday season, but for the winter months. One brewery that makes not, but two, winter beers is England's famous Fuller's brand, from the Griffin Brewery in Chiswick, West London. The first is Fuller's Old Winter Ale.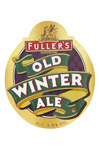 Fuller's Old Winter Ale is a rich warming winter ale brewed to 4.8% ABV using only the finest quality malt and hops. The Crystal malts in the brew give a sweet, nutty character, while the Target, Challenger and Northdown hop varieties, help balance this strong, satisfying dark beer.

The second beer, Fuller's Jack Frost is brewed with Crystal malt and a dash of blackberries, and delivers a fruity, robust yet refreshing flavor that lingers long on the palate.