Every holiday season from Indiana's Three Floyds Brewery comes Alpha Klaus, a twisted porter version of their popular Alpha King.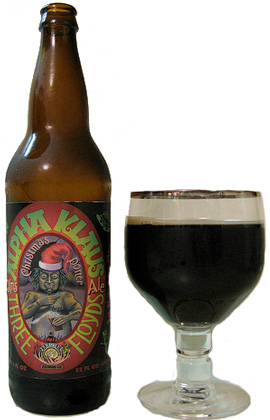 Here's how one Midwest retailer describes Alpha Klaus:
Oh baby, this may be my favorite winter seasonal of all time. Rich, thick pour. Great dense head. Absolutely heavenly hop aroma, fresh hops greet the nose at every sip. Beautifully crafted flavors: chocolate malts, sweet maltiness – but not caramel-sweet, complete flavor hop bonanza that slides into an aromatic carnival, and a quickly dissipating bitterness evaporates along with the aromatics leaving you with a chocolate-coated palate….. fantastic.