At Santa Cruz Mountain Brewery, brewer, Chris Breaux, has dreamt of Ginger since he first started brewing with the company. A sultry elixir of ginger and lightly roasted malts, he concocted this ale with one thing in mind. Ginger. Smooth on approach, spicy on your lips, and warming you where it counts. The warmth and holiday spice of Ginger, will compliment all of your favorite seasonal dishes, roasted turkey, pumpkin pie and figgy toffee pudding.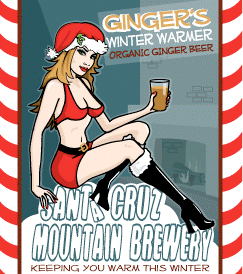 Alcohol: 6.4% a.b.v.
Exclusively available at the brewery or online at our Brewery General Store!