As usual, I was a little lost and a little late as I hammered the accelerator from light to light. I'd been to Portland's infamous Horse Brass Pub before and count Don "The Caveman" Younger a Beerdom buddy. But I'd neglected to bring a map or even the address of the pub along with me. I knew it was next to Belmont Station on Belmont St., (at least where Belmont Station used to be, turns out Belmont Station's 4 blocks away on Stark now.) and by god I was going to find it (Thank god my wife wasn't with me. She'd want me to do something crazy like ask for directions.)
I was supposed to be at Horse Brass Pub at 2pm to join in the celebration of SNOBs 2000th membership. SNOB stands for Supporters of Native Oregon Beer. They're the Enthusiast Members of the Oregon Brewers Guild. The Oregon Brewers Guild was founded in 1992 and is one of the nation's oldest craft brewers associations. OBG describes their SNOBs as "an integral link in the 'beer chain' that connects suppliers, brewers, retailers and consumers. Being a SNOB shows off your impeccable taste in beer and gets you a backstage pass to see what's going on behind the scenes in Oregon's craft brewing industry."
The Horse Brass Pub, established waaaay back in 1976, is on every beer geek's life list and its owner, Don Younger has, through enthusiastic promotion of craft beer, become something of an industry icon himself. Rogue Brewery even named a couple beers after him, Younger's Special Bitter (YSB) and Imperial YSB.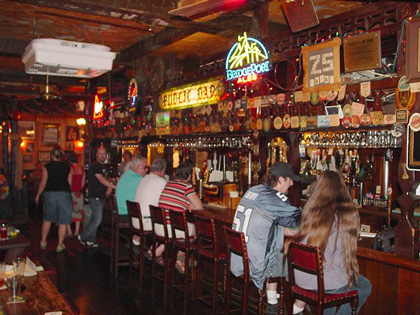 What better place to celebrate Oregon's 2000th SNOB? The place was packed with SNOBs when I rushed in to capture the moment. Luckily, other than a few lottery drawings and consumption of a nice spread of sausage and Oregon Craft Beer, not much had occurred. I'm not sure if Brian was waiting for me or I just timed it perfectly. After shooting a handful of pictures I sat down to enjoy a Pittock Wee Heavy Ale by Mt. Hood brewing. Ummmmmm perfection.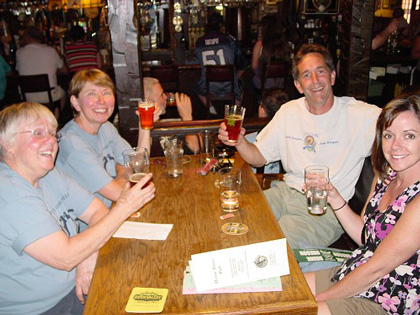 I'd just reached the bottom of my pint glass when Brian Butenschoen, of the Oregon Brewer's Guild, made the announcement. Through a twist of fate involving black holes, crossed dormant dwarf stars, and a parallel universe, there ended up being two 2000th members. TJ Barlow and Bill Matara will share the honor and the loot attached to being the 2000th members to enlist in the SNOB ranks. Long may they tip their glasses in support of Oregon Craft Beer!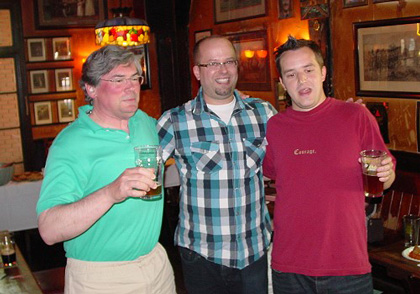 For more information on the Oregon Brewer's Guild or becoming a SNOB go to www.oregonbeer.com.