The last piece of the puzzle is in place to meet Rogue Ale's ambitious goal to create an all-Oregon beer for Oregon's sesquicentennial next year (150th year of statehood).
It all started earlier this year with 40 acres of hops planted at Rogue's hop farm in the Willamette Valley. The last domino was put in place 3 weeks ago, when 122 acres of winter barley was sown in Tygh Valley soil (the only malting barley being grown in Oregon). After next summer's harvest, Rogue will have their own Oregon hops and Oregon malt to combine with their exclusive yeast (made by Wyeast in Hood River Oregon) and, of course, the free-range coastal water they're famous for. Put it all together and you have an all-Rogue, all-Oregon, beer.
The idea evolved from the company's decision to grow some of its own hops last year. "We never set out to be farmers," Brett Joyce, President of Rogue Ales, said, "but as an Oregon brewery we think it's important to support our state, and to make products that come solely from our state." Joyce admits the project was no economic benefit to the company: "These may be the most expensive hops and barley we've ever used," he said, "but it sure is fun."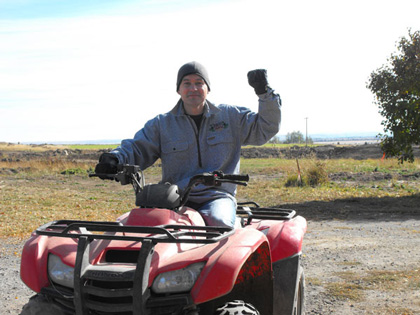 The owner of the Tygh Valley farm, located 30 miles south of The Dalles, is Dr. Jim McAllister of Portland. "I describe him as a neck surgeon with a farming problem," said Joyce. "He's a neck surgeon out at St. Vincent's, but he grew up on a farm in South Dakota. He's owned this farm for 30 years, and keeps building on it, adding acreage."
The winter barley, planted three weeks ago, is now about three inches tall. In addition, Rogue plans to expand and plant an additional 103 acres in spring barley in April for harvest in July.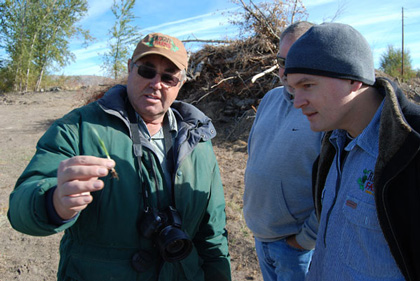 Like the Hop Farm, Rogue plans to set up a webcam so members and fans of Rogue Nation can check in from time-to-time and watch the crop grow. Rogue plans to offer tours at both farm locations. "Most people have seen vineyards and have been to tasting rooms of wineries, but I don't think many have been to a barley farm and seen the agricultural part of the crop," Joyce said. "People like seeing where things come from."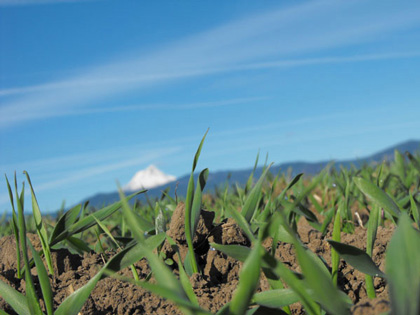 After harvest, the barley will be shipped to Great Western Malting in the Portland area. From there, the malted barley will be sent to Rogue's main Brewery in Newport, where it will be kept in a separate silo, awaiting its role in the new brew.
What's it going to be? "We'll let our brewmaster (John "More Hops" Maier) practice his art," said Joyce. It's his job and his creation; he'll decide what the beer is going to be. We have no input on that at all. We say, 'John, here's the barley, here's the hops. Just tell us what it's going to taste like and what it's going to cost and let us do the rest.' That's how we do it at Rogue."
Additional pictures of the Rogue Barley Farm Fieldtrip can be found on Fickr.