Oskar Blues Brewery is now releasing Mama's Little Yella Pils in sixpacks of cans. Cans (and kegs) of the beer are now appearing at beer retailers in Colorado and the brewery's other 22 states.
This new canned beer from the pioneering microcanner is a delicious, small-batch version of the beer style that made the city of Pilsen (in Czech Republic) famous.
Mama's is made with hearty amounts of pale malt, German specialty malts, and a blend of traditional (Saaz) and 21st century Bavarian hops. Unlike mass-market pilsners, Mama's is made of 100% malted barley and no corn or rice.
"There are very few all-malt pilsners made in the US anymore," says Oskar Blues founder Dale Katechis. "And the concept of 'America-made pilsner' has taken a beating over the past few generations. Especially when it comes to pilsners in cans."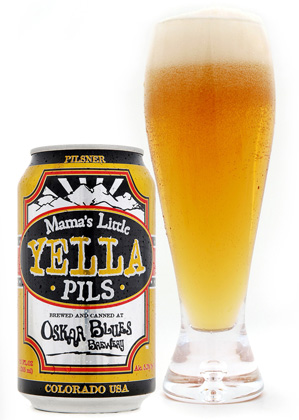 "We're going to use Mama's to help the style recapture its glory," Katechis adds. "We want to give 'canned pilsner' the same good reputation we helped create for canned beer in the US. It's a new frontier for us."
Oskar Blues' first canned lager, Mama's Little Yella Pils is fermented at cool temperatures with a German yeast.
It sports the trademarks of a classic pilsner: aromas of grassy Saaz hops and pale grains, flavors of pale malts backed by subtle Euro-style hopping, followed by a crisp and refreshingly hoppy finish.
While it's rich with Czech flavor, Mama's gentle hopping (about 35 IBUs) and 5.3% ABV make it a satisfying but lower alcohol beer (by Oskar Blues standards) that's perfect for warm-weather drinking.
Since its start, Oskar Blues has blazed its microcanning trail with higher-strength, assertive-but-elegant beers that stretch beer boundaries. But Mama's Little Yella Pils allows the brewery to highlight its skills in making a more subtle version of great beer.
"You can't hide flaws in a pilsner," Katechis says. "With this beer our brewers get to showcase their expertise at making an unforgiving, classic style of beer."