Forget the hats and mittens and forgo the space heater, Kurt and Rob Widmer have brewed up a better way to stay warm this winter — open a cold one of Brrr, Widmer Brother's first new winter ale in four years.
Available now through the first week of January, Brrr is a moderately strong dark red ale that embodies the notable "Pacific Northwest style" citrus hop aroma and flavor. The new brew provides a tangible flavor that ultimately transitions into a candy-like malty sweetness and quick finish. Caramel and chocolate malts provide flavor complexity, and an enticing color. If you want to try it before you buy it, come on out for the Brrr Release Tour – through the end of November we're making stops throughout the Pacific Northwest, handing out samples of the best darn winter ale ever made.
No promises, but the odds are good that you'll be the hit of the holiday party if you show up with some bottles of Brrr. To help get you in the giving mood, six-packs of Brrr come with a built-in gift tag, making it a fast and refreshing gift idea for any party or craft brew lover — including yourself!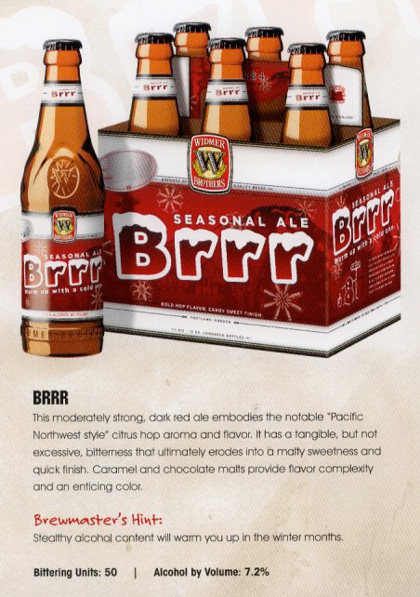 Keeping with the seasonal cheer, Kurt and Rob have come up with another awesome e-card to celebrate Brrr (and ensure at least one holiday card arrives on time)! We can all agree it's better to give than to receive. Once again we're giving $1 to Big Brothers Big Sisters Columbia Northwest for each e-card sent. By sending an e-card, you're helping support kids who don't have a big brother in their life (or! just want someone to throw snowballs at). Check out the website to get started!