Christmas at the brewery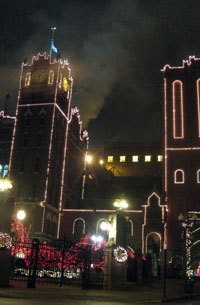 Nothing says Christmas like the aromas of beer brewing and Christmas lights. St. Louis residents, and visitors to the city, can roll down their windows each Friday night between now and Jan. 4, take a whiff and enjoy the massive lighting display while driving through the giant brewing complex.
This is the 27th year the brewery has invited guests to view the holiday lights display, which visitors may access from Arsenal Street, turning onto Seventh Street and then traveling along Pestalozzi Street. On the first three Fridays in December, the tour center has extended hours until 8:30 p.m. and guests may bring their cameras to take photos with a Clydesdale from 6:30 to 8 p.m. Tours include the historic Brew House,the Clydesdales stable and Bevo packaging facility,as well as a scenic view of the lights along Pestalozzi Street.