Rogue's annual holiday offering, Santa's Private Reserve, is a variation of the classic Saint Rogue Red, but with double the hops — including Chinook, and Centennial, and a mystery hop called Rudolph by head brewer John "more hops" Maier!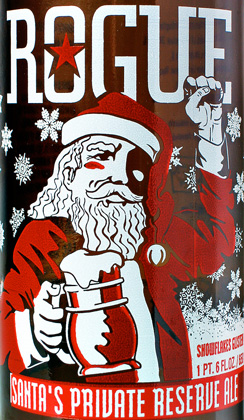 A double-hopped Red, reddish in color, with a roasty, malty flavor and a hoppy spruce finish, using 10 Ingredients:
Malts: Great Western Harrington, Klages, Munich & Hugh Baird Carastan 30-37 & 13-17, Crystal 70-80.
Hops: Chinook & Centennial.
Yeast & Water: Rogue's Pacman Yeast and Free Range Coastal Water.
13º PLATO
44 IBU
73.1 AA
26º Lovibond