GABF brewers' diaries
Brian Dunn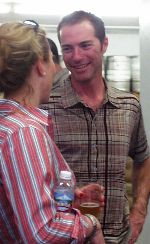 Brian Dunn plays host during a media gathering at Great Divide just hours before the opening of GABF.

When Dunn started Great Divide Brewing Co. he was the only full-time employee. He has an undergraduate degree in Soil Science and a masters in Environmental Policy. He lived overseas for five years running large scale farms or researching start up farm export operations. Unhappy with job prospects right after he received his masters, he wrote a business plan to start a Denver microbrewer. He raised money, re-zoned the building and installed the equipment. The first brew was in May of 1994 (two days after he and his wife, Tara, got married). This will be the ninth year that Great Divide has been at GABF, and the brewery has won six GABF medals.

» Sept. 10
"We have a really nice draft presence in the downtown area, but we like to make sure that we have a good variety of our beers out there, not just our top two sellers."

» Sept. 16
"Draft beer lines are an integral part of delivering a great tasting pint to the consumer. There's no sense in putting a fine draft beer through a mangy line."

» Sept. 22
"We did get a picture that year of Michael Jackson pushing our grinning kids in a double-wide stroller. That picture is a keeper."

» Sept. 24
"There's all the usual catching up with people you haven't seen since last year's GABF ... with a great beer in hand."

» Sept. 26
"Thursday is the mellowest of the three evening sessions. I like that one because if you're pouring beer, you can actually take the time to talk to people about the beer and ask them what they think."

» Sept. 29
"This week the brewery will get back into the usual production routine and start to look forward to next year's GABF."