Central European beer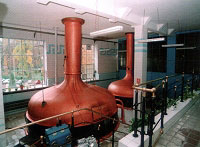 Michael Jackson writes: "Here there are three brewhouses, all still in use, spanning the history of Okocim. Two are in copper, with vessels in the traditional shape. The third, dating from the early days, has curiously bevelled vessels, painted green. The fermenters are open squares in Gothic arched cellars."

Stephen Beaumont tastes a range of seldom-seen rarities, such as Breznak and Zavis. He did three rounds of tasting, so start here and keep clicking.
- Also, tasting notes for Golden Pheasant.

Roger Protz has long treasured Kozel from the Czech brewery Velke Popovice, but is particularly interested in unraveling the mystery of the Kozel logo. The symbol of the billy goat has historic connections with strong lagers known as Bock that are brewed in Munich and Bavaria, the southern region of Germany close to the Czech Republic.
Search

Find whatever in the beer world you are looking for. Enter a search word or phrase, then click GO.




ADVERTISEMENT