American Beer Month 2005


- Lisa Morrison leads a tutored tasting.
- Cornelia Corey answers questions.
- Lucy Saunders on grilling with beer.
- Daria Labinsky leads a roundtable.

New Belgium Brewing Co. in Fort Collins, Colo., is one of the fastest growing breweries in the country, but hasn't lost track of its beer roots.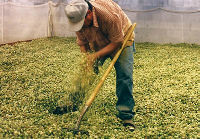 Online tastings
In July 2000, several beer experts led conducted tastings for Real Beer. The beers they wrote about are still out there waiting for you to try them.
Scott Birdwell: American ambers and pale ales
Ray Daniels: American porters
Lew Bryson: Hey Now, Try Some Goot Pennsylvania Dutch Bier
Mitch Steele: New England IPAs
Stephen Beaumont: American versions of Belgian styles
Todd Ashman: Beers that inspired him to brew